Dave Carlson Studios is a full service freelance shop specializing in both hand rendered and digital illustration. Our work runs the gamut from cartoons to life science and biomedical illustrations, and as our online portfolio shows, pretty much everything in-between, including caricatures, editorial and textbook art, wildlife, technical, logos, spot illustrations, etc. Our clients include advertising and design agencies, corporate and retail, publishers, universities, Uncle Sam, etc.
In addition, we're associated with a talented network of freelancers, which allows us to efficiently manage large projects such as textbooks and website content.
We also maintain a growing archive of stock art, including many of the images on this site.
Clients: Hewlett-Packard, NASA, U.S. Dept. of the Interior, U.S. Fish & Wildlife Service, U.S. Army, the Centers for Disease Control (CDC), Merck, Novartis, AstraZeneca, Denver Museum of Nature and Science, Hills Pet Products, Colorado State University, New Belgium Brewing, U.S. West Communications and Teledyne. Publishers include PrenticeHall, Pearson, Elsevier, Lippincott, Wiley-Blackwell, McGraw-Hill, Barnes & Noble, BookPage Magazine, Macmillan, Peterson Field Guides, HoughtonMifflin, Harcourt Brace, WB Saunders, Wm C. Brown, Lea & Febiger, and The Oxford Press.
Dave Carlson is a life-long doodler who's been doing it professionally for the past 30-odd years. Additionally, Dave has held somewhat more secure positions as a newspaper illustrator/cartoonist, magazine art director, university illustrator/designer, and currently a partner/art director/project manager for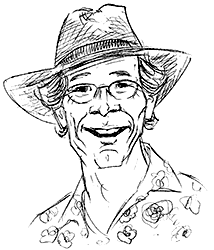 BioGraphix, LLC, a biomedical multimedia studio. He doodles merrily along at the foot of the Rockies between Denver and Cheyenne, with the support of his very cool wife and two kids.
Dave designed and produced this website with the patient hand-holding and programming skills of webguy extraordinaire Stew Crawford.